Note: The following list will help you get a big picture of what PyraPOD can help you grow your own food and even design your own shelter. The code in brackets is for each particular design with specific dimensions and use. Note that all the following designs intrinsically incorporate the collection of clean distilled water and snow melting functionality. Off-grid solutions can be easily added to each design as SolaRoof runs on low-cost fans and water pumps. For educational purposes we also have smaller designs called PyraBox and PyraShower, which will be revisited later and fine-tuned further.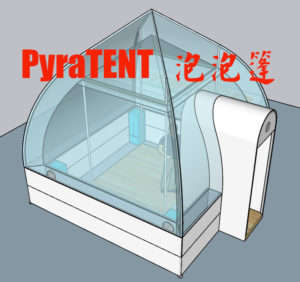 (1) PyraTENT (P4T2m) is so far the smallest PyraPOD structure utilizing Richard Nelson's SolaRoof technology. Its square footing is only 4×4 meters. As its name implies, it is meant for an all-season tent that can be set up easily and can even be built DIY by a handy person. It is a low cost way for anyone or any team to get hands-on experience and learn about the technology. Click to learn more about PyraTENT.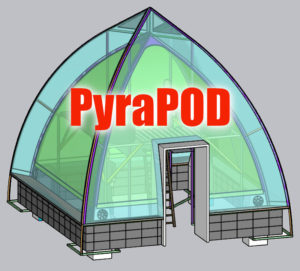 (2) PyraPOD (P4V17f) is a slightly bigger and taller version than PraTENT, designed to have a second floor for backyard vertical growing such as iAVS sandponics and aquaponics to get both fresh vegetables and fish. Click to learn more about backyard PyraPOD.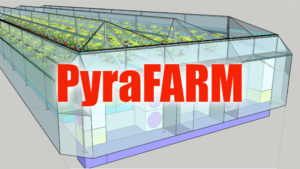 (3) PyraFARM (P4T48x12m) is a much expanded tent-like canopy that is rectangular in footing and is meant for large-scale farm operations. It can collect rain water on roof for growing. While it is designed to house iAVS sandponics and aquaponics, it can be used for other farm operations or to be adjusted as roofing systems for supermarkets, factories, stadiums, and community centers, etc. Click to learn more about PyraFARM.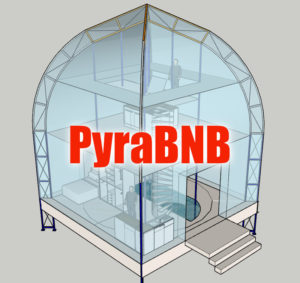 (4) PyraBnB (P4B24f) is a 2.5-level building designed for gardening on the top level and living on the main and second levels. A large swimming pool is on the ground level with room for fish underneath the floored area. The main level walls can be built with opaque structural insulated panels (SIP) for privacy and quick assembly. Click to learn more about PyraBnB.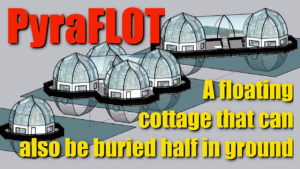 (5) PyraFLOT (P8W12f) is a house that can be built directly on water or buried half in the ground so that it can float up in a sustained flood. This is useful for those who live near the sea, the lake and in low grade areas that tend to have seasonal flooding. Two, four or more units can be joined together for expanded families or communities. Click to learn more about PyraFLOT.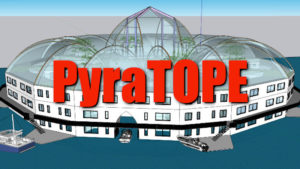 (6) PyraTOPE (P16W12m) is simply a much expanded version of PyraFLOT that can house up to 96 families in one structure. It is meant for a large community of people who would like to live together on still water. Many functions can be built in to meet the community needs. Click to learn more PyraTOPE.
---
P.S. Meanings of letters in the above design codes: P for PyraPOD, 4 for square or rectangular footing, 8 for octagon footing, T for tent or tent-like structure, V for vertical growing or structure, B for BNB, W for water floating capabilities, F for Farm use, m for meters in edge length, f for feet in edge length.