PyraFLOT is a house that can be built directly on water or buried half in the ground so that it can float up in a sustained flood. This is useful for those who live near the sea, the lake and in low grade areas that tend to have seasonal flooding. Two, four or more units can be joined together for expanded families or communities.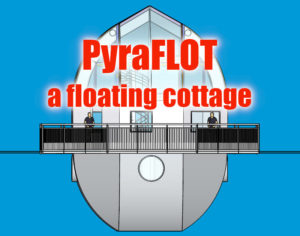 The design you see here is based on the octagon shape for the middle main floor with an edge length of 12 feet (P8W12f). The height from the main floor to the pyramid top is about 28 feet. The walls on the main floor will be built with opaque SIP panels for security and privacy.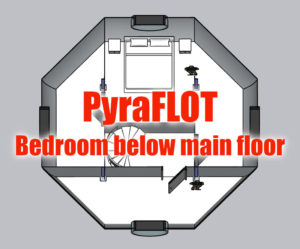 To increase stability and floating force, the external portion of main floor is rather thick (2 feet) and made of a light and sturdy material. While the bottom of PyraFLOT is flat, large amount of water is contained in different sections of the bottom level to lower the center of gravity and a simple mechanism will be used to balance the whole structure by moving water from one section to another.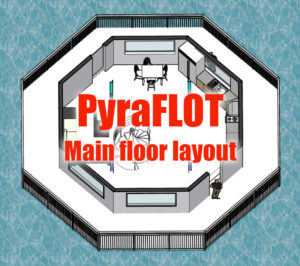 Bedroom is located one floor below the main with bathroom and windows (underwater view). This floor is also the storage area. The main floor has kitchen, dining room and living room with a lot of windows for lighting from all sides. Because of enough solar thermal energy collected and stored in water during the day and superb insulation property of soap bubbles, windows with lower R value will not be a problem. Both second and upper floors are for growing fresh vegetables.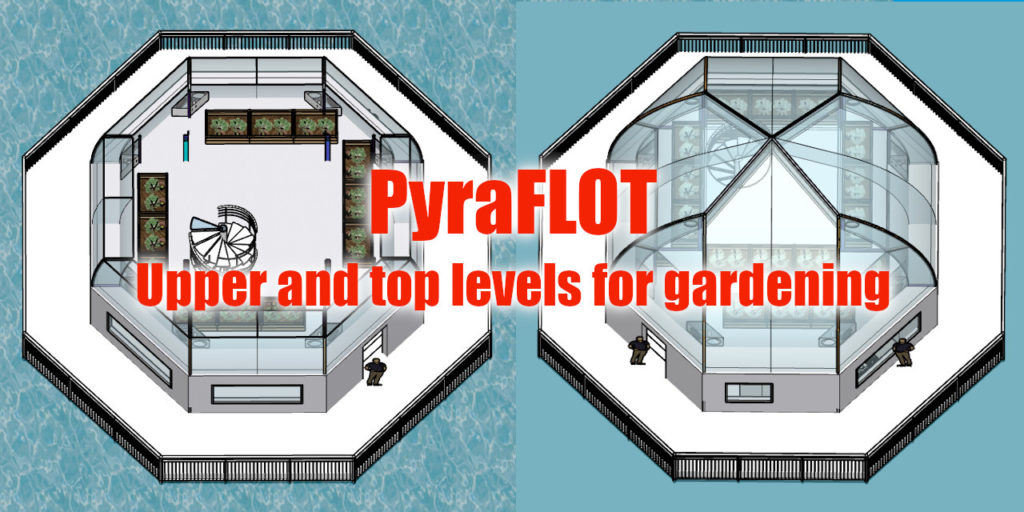 While one unit is big enough with total of 2000 SQF living space on two floors, what we show below are two and four units joined together for extended families. A much larger complex can be formed this way for even larger communities. In this case, common areas such as swimming pools, outdoor sports, meeting halls can form for better living.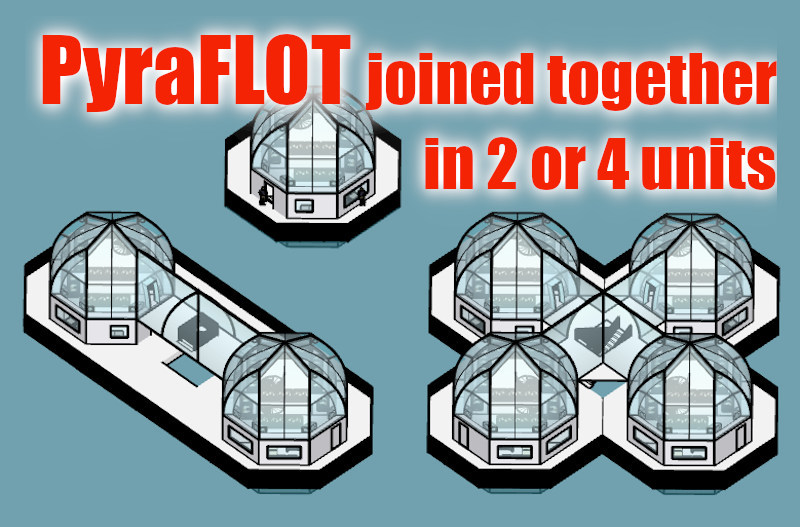 Click to see a full list of other POD designs.